IoT Inventory Management: eTurns SensorBins vs Actylus Smart Bin System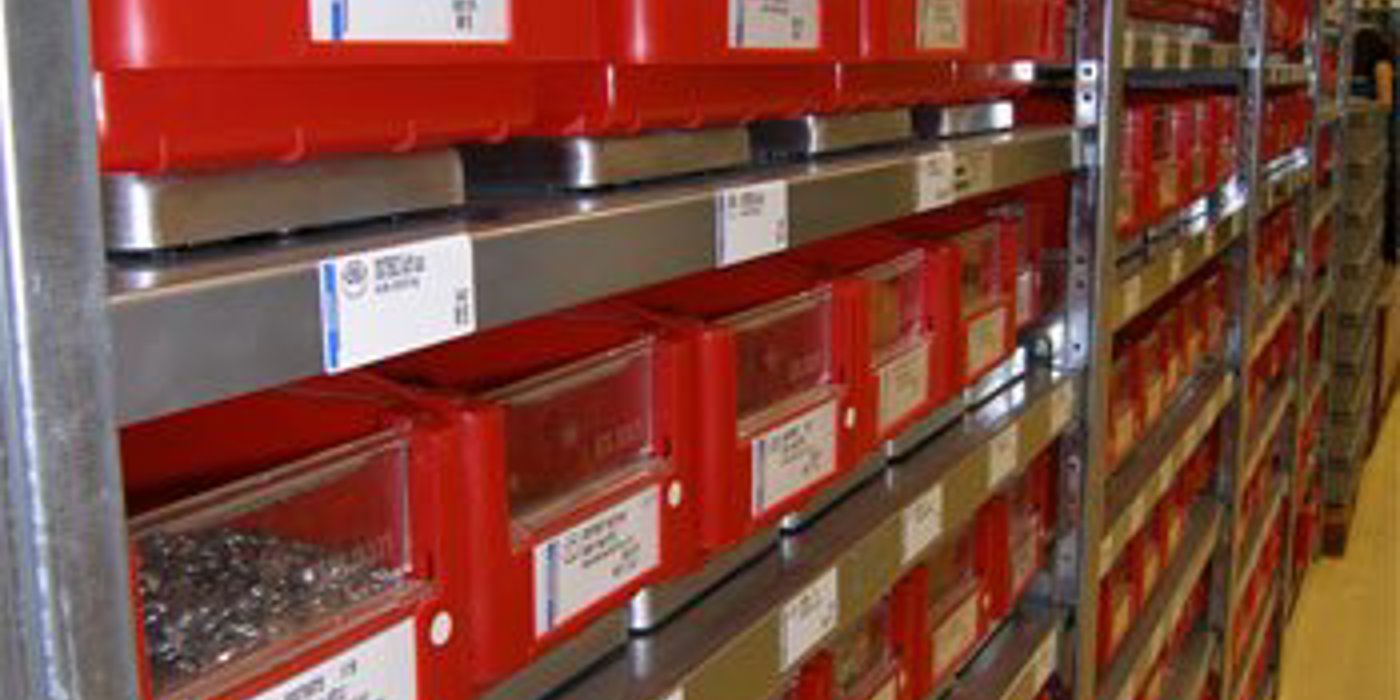 In an environment where inventory items are either critical or used at a fast pace, the ability to track inventory in real-time is vital. Manufacturers rely on a constant supply of significant components to meet production schedules. Healthcare facilities require a reliable stock of PPE to conduct medical procedures and serve clients.
Industries that have high inventory turnover rely on distributor vendor-managed inventory (VMI) systems to ensure critical inventory is always in stock. In a VMI system in a manufacturing environment, for example, the distributor typically tracks and manages the consigned inventory located in the manufacturer's stockroom, optimizing the inventory for their use.
Because of pandemic restrictions, it has been difficult for distributor reps to access their customers' stockrooms. In this situation, distributors who use weight sensors for automated management of their VMI or consignment inventory have gained a significant advantage.
Can I use weight sensors for inventory management?
Weight sensors, such as the eTurns TrackStock SensorBins™, powered by Mettler-Toledo, are the perfect tool to remotely monitor inventory levels. They can be placed under bins, on a stockroom shelf, on mobile racks and in job-site containers to bring the supplies close to the spot where they are needed.
eTurns has partnered with Mettler-Toledo to offer automated inventory tracking and replenishment with TrackStock SensorBins™. This no-touch solution puts IoT weight sensors under bins of supplies that work together with eTurns TrackStock cloud software for fully automated replenishment. TrackStock SensorBins convert bin weights to quantity to allow complete physical inventory counts multiple times a day without human intervention, and then automatically reorder if the quantity is less than the minimum set level.
eTurns SensorBins: IoT weight sensors for auto-replenishment
Employing a remote inventory management system with TrackStock SensorBins provides many benefits to distributors and their clients who use a VMI system, including:
Touchless technology

- Many distributors have been prevented from sending reps to do inventory management in facilities due to ongoing COVID safety restrictions.  Some manufacturers are extending this restriction to help prevent theft of intellectual property or maintain employee safety inside the facility.
Extending the sales force

– Instead of conducting inventory counts in person, sales reps can use that time to be proactive with selling.
Benefits without the headaches

– For distributors, remote inventory management with TrackStock SensorBins provides the benefits of VMI without the headaches involved in manual tracking of inventory.
Customer loyalty - Distributor's customers are more satisfied because their inventory levels are reliably stocked.
Reduced travel expenses

- Remote inventory management reduces travel expenses, especially for smaller distributors that may not have branches and customers that are located hours away. Distributors that provide VMI to clients with operations in remote areas benefit by using TrackStock SensorBins to resupply electrical parts and supplies to keep expensive machinery going.
Superior sensor technology -

TrackStock SensorBins use weight sensors manufactured by Mettler-Toledo, a leader in high-precision and high-accuracy weighing solutions.
eTurns SensorBins vs Actylus Smart Bin System
There are few sensor-based inventory tracking solutions available for distributors who want to accomplish VMI remotely. The Actylus Smart Bin System formerly offered by Apex Supply Chain Technologies is frequently used by fastener distributors. However, that system is no longer supplied by Apex and is now owned by Fastenal, a fastener distributor. Many distributors would prefer not to allow Fastenal access to their customer's order information. 
TrackStock SensorBins by eTurns is a much better IoT inventory management solution than Actylus' for numerous reasons, including:
Supplier independent:

TrackStock SensorBins by eTurns is not tied to one supplier for use of the sensors. The technology can be used for any supplier's product and only the distributor and their customer will have visibility into the inventory, its usage and clientele. Actylus is no longer sold by Apex and is now a product of Fastenal.
More Weight Options: eTurns has nine different weight options for bins, from 0.1 grams to 2,200 lbs, while Actylus has only two options. The more weight options available, the more flexibility a distributor has in configuring item storage. Actylus's restrictive bin weight option can result in a rack of 25 bins with the same item because there are only two sizes of bin to use. It also presents a problem of visibility, as it is impossible to know which bin is empty and which has material in it.
More Sensitive Weight detection:

eTurns SensorBins can detect weight down to 0.1 grams, which is critical when stocking lightweight but vital items such as plastic washers, blanks and micro-screws.  The Actylus system cannot detect weight less than 3 pounds. Many fasteners are plastic inserts and Actylus may measure the total weight of those bins as 0.
Better Weight Accuracy:

eTurns SensorBins using Mettler-Toledo technology are accurate to .0013%.
Flexible Inventory Count Settings:

eTurns TrackStock can be set up to do inventory counts numerous times per day and at specific times. Distributors can set up inventory counts at a manufacturer after every shift change or two to three times per day, depending on their needs.
More Modular Configurations:

eTurns SensorBin configurations are not dependent on the size of the bin or even the number of bins. SensorBins can be configured to measure the weight of an individual bin, an entire shelf, bench or pallet. Actylus sensors are "one size fits all" and therefore cannot accommodate varied part sizes and inventory stocking configurations.
Real-time Reorder Calculations:

eTurns TrackStock calculates reorder quantities based on actual usage. Users of the app can set a minimum number of pieces as a reorder point and as consumption continues and the quantity of the items decreases, the reorder quantity increases up to the maximum. Actylus's reorder calculation is binary – once it reaches a minimum weight it reorders a fixed amount; the reorder quantity never changes unless done manually. This can cause a problem if the tech removes enough items from the bin to trigger the order for more and then returns items to the bin. Even though the items are no longer needed, the order has been placed and the distributor is shipping material that's not needed to their customer. In the same situation, eTurns takes the suggested order out of the system, because the app is interactively recalculating the additional items in the bin.
Adjust Settings From Offsite: eTurns SensorBin settings can be adjusted remotely. eTurns is software as a service – if you want to update the weight per piece, you just access the app and enter the new weight per piece. With Actylus, the settings must be adjusted on-site, which defeats the purpose of remote technology.
Reports On Actual Usage:

eTurns provides numerous standard reporting options, including item usage by calculating the difference in bin weights (and adding items received) during user-defined time frames for consigned billing and replenishment. Actylus does not have this capability.
Distributors want to ensure customer loyalty through better service and accommodating their requests for touchless technology. Using eTurns SensorBins to automate replenishment of their consigned inventory, distributors will realize these goals while also gaining the opportunity to utilize their sales force more productively.
For more information about eTurns TrackStock app and IoT inventory management with SensorBins, contact eTurns. Or download our TrackStock SensorBins PDF here. 
Tagged in:
SensorBins
VMI & CMI
Distribution