10 Ways eTurns Saves Distributors (and Their Customers) Time and Money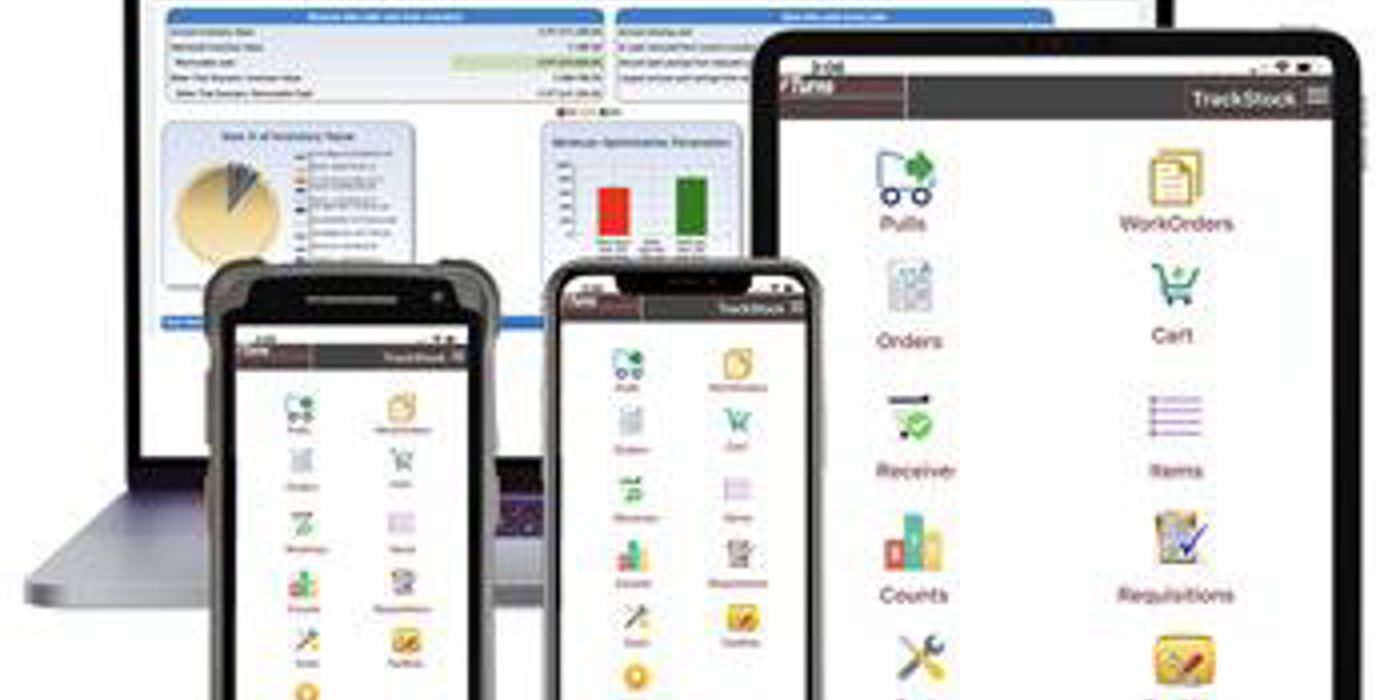 Through automated replenishment at the point-of-use, eTurns helps distributors and their customers gain greater visibility into their inventory — and its associated costs — in their distribution centers, customer stockrooms and service trucks. 
We help distributors and their customers automate re-ordering and optimize inventory levels. Many distributors co-brand eTurns' cloud-based software and then offer it to their own customers, which creates a value-added service — whether they have an ERP/WMS system or not. 
Here are 10 ways eTurns helps distributors optimize inventory as well as save time and money.
1) eTurns offers easy-to-use replenishment apps that are 10 times faster than manual reordering and e-commerce. 
Using the eTurns TrackStock app is 10 times faster than replenishing through an ecommerce website, and far faster than spreadsheets. eTurns keeps things simple with automated stockroom replenishment controlled right from your preferred device, whether that's a phone, tablet, RFID, eLabels or SensorBins. Choose the app that's right for your business. 
2) eTurns shows you how much cash you can save by optimizing inventory with the Min/Max Tuning Dashboard
The eTurns TrackStock app can track usage and calculate optimum minimum and maximum levels, which shows distributors and their customers exactly how much inventory they should keep on-hand. The clincher? The Minimum/Maximum Tuning Dashboard also displays how much cash you can save by removing unnecessary inventory. 
3) eTurns allows distributors to inexpensively offer consigned inventory.
eTurns ensures that distributors spend as little as possible on stocking consigned inventory at their customers' accounts, while ensuring there are no stockouts. Based on a customer's actual usage, the eTurns TrackStock App offers automated inventory replenishment that can identify the ideal minimum and maximum inventory levels at a customer site, as well as which products don't need to be stocked onsite. TrackStock also reduces P.O. costs by over 95% with consolidated batch invoicing for consigned inventory, delaying sending every individual pull and instead sending just one PO per item.
4) eTurns helps distributors get paid sooner. 
eTurns TrackStock captures and digitizes the VMI/CMI order process for both distributors and their customers. Distributors receive these orders into their ERP business system directly from TrackStock. TrackStock can also provide distributors the ability to produce a customized "Order Input" report for each customer with the customer's detailed order information that they can upload into their business systems. This Order Input report cuts the average cost of customer POs by ensuring no re-keying, no errors, no discrepancies and therefore no complaints. The sooner the distributor's customer can bill their customer, the sooner they get paid and the sooner the distributor gets paid. One distributor told us eTurns TrackStock helped them get paid in 3 days instead of 2 weeks. 
5) eTurns helps distributors grow their bottom lines.
When distributors offer eTurns to their customers, they are giving them a value-added replenishment service that saves time and money for both the distributor and the customer. In addition, distributors tell us that eTurns TrackStock helps them increase same-customer revenue by over 30% because of just how easy it is to use. eTurns helps distributors and their customers:
Decrease time and money spent on procurement by up to 90%. Redeploy resources to revenue-generating activities. 
Decrease inventory levels and annual inventory carrying costs by up to 73%.
Decrease shrinkage by 20-40%.
6) eTurns TrackStock Precise Demand Planning™ optimizes distribution centers using actual order data from the point-of-use. 
For distributors who have always relied on historical orders for inventory replenishment, eTurns offers point-of-use inventory data instead. This reveals what products were ordered, how many and when. With usage-based data, eTurns reduces forecast error and cuts unnecessary cash tied up in stale inventory. This usage data can be fed to a distributor's ERP or demand planning software to optimize distribution centers. This helps distributors move from just-in-case overstocking to just-in-time optimal stocking, as demand is no longer a forecast but a known quantity of items and order dates.
7) eTurns manages inventory on service trucks.
eTurns Service Truck Inventory Management provides contractors with real-time visibility into service truck inventories, as well as parts and labor usage by job. That helps contractors make sure they have the right parts in the right quantities on their trucks.
Service America used eTurns to improve accuracy on their trucks by more than 45 percent, reduce truck inventory levels by more than 30 percent and warehouse inventory by over 45 percent. Service America also reduced theft, and experienced greater efficiency in daily inventory procurement, saving the company hundreds of thousands of dollars.
8) eTurns decreases downtime by tracking asset maintenance timing and parts.
eTurns helps end-users track and schedule maintenance to ensure you're keeping your assets in tip-top shape, based on date, number of hours or number of check-outs. eTurns optimizes the inventory of all the MRO material needed to maintain your assets. This helps you avoid stocking out of crucial parts right when asset maintenance is scheduled. Automatic alerts ensure you never miss a maintenance check.
9) eTurns tracks tools with greater accountability.
When you're checking out tools, there's a chance that they may get lost or damaged without the right accountability tracker. eTurns helps keep track of expensive power tools as well as less expensive tools like hammers and extension cords with the easy-to-use TrackStock Tool App and its scanning or RFID functionality. This can reduce tool tracking time by 80%.
 10) The eTurns replenishment app is battle-tested with top distributors. Don't waste your time on unproven apps. 
With more than 1,600 customers and $20 million in transactions each month, eTurns has a proven reputation among distributors. Clients include Anixter, Gexpro, Graybar, Humana, Rexel, Arrow Electronics and TTI, among others. 
Ready to streamline your systems, eliminate inefficiencies and improve profit? Learn more about how eTurns can help you save time and money. Sign up for a demo today.
Tagged in:
Tool Tracking & Asset Maintenance
TrackStock Precise Demand Planning
Optimized Inventory
Min/Max Tuning
Consignment
VMI & CMI
Distribution
Service Trucks