Amazon Inventory Management: eTurns offers Auto-replenishment Based on Usage to Amazon Business Customers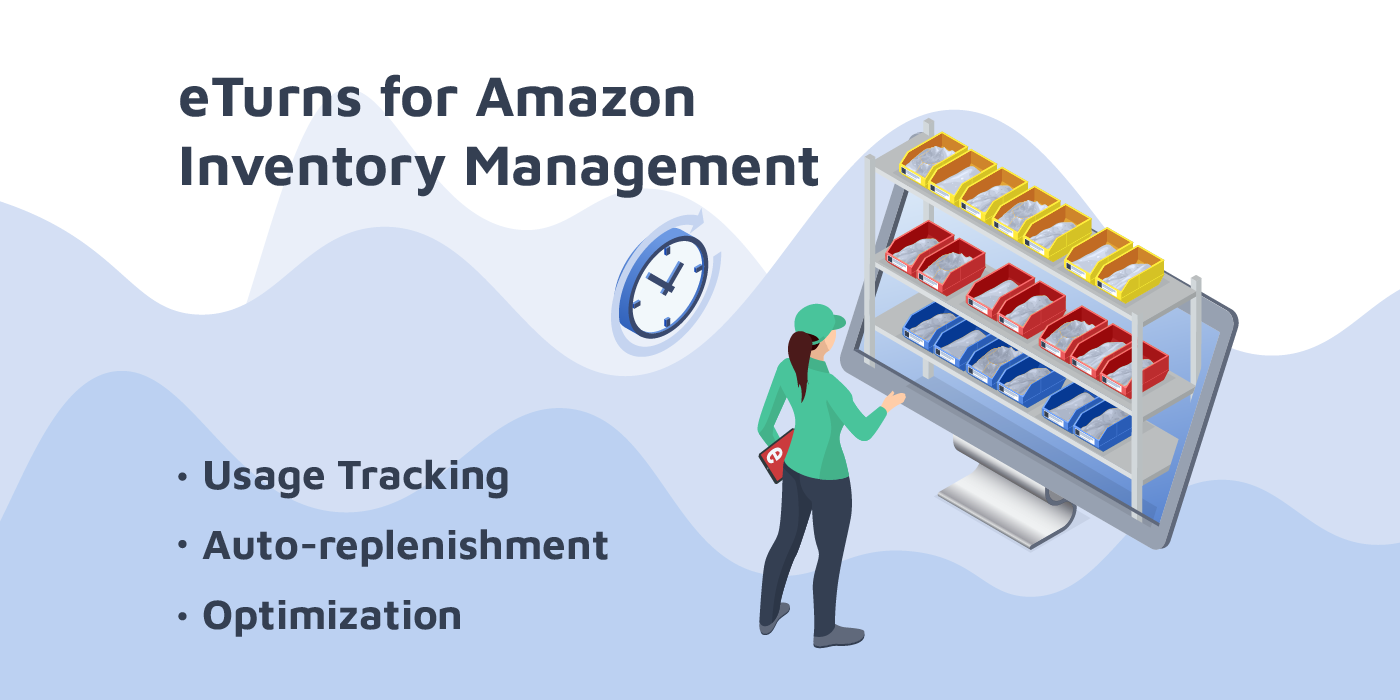 eTurns and Amazon Business have partnered to deliver optimized inventory replenishment to Amazon Business customers.
For many years, Amazon Business customers have been able to select calendar-based auto-replenishment of Amazon items, which facilitated actions such as ordering a case of tissues once a month. 
Now, for the first time, Amazon Business customers can use a mobile scanning app, eTurns TrackStock, to track the usage of all the items in their stockroom and auto-replenish those items using min/max levels. In addition, TrackStock's AI inventory management functionality can optimize inventory levels. 
TrackStock uses QR code scans and sensors to count, order, receive, and track usage of stockroom and truck inventory. Customers who use TrackStock have been able to reduce procurement costs by up to 90% and lower inventory levels by up to 73%. 
Read on to learn more about the TrackStock capabilities designed for Amazon inventory management in order to save Amazon Business customers time and money on stockroom replenishment.
Perform Cycle Counts That Trigger Reorders From Any Supplier, Including Amazon
One of TrackStock's features is guided cycle counting. TrackStock guides users through an easy cycle counting process that can include ABC analysis for prioritized items. The guided process helps ensure users don't skip an item that should be counted in that cycle. 
Users can set min/max levels for all the items in their stockroom inventory from any supplier. If the current count detects an on-hand quantity below the minimum threshold for that item, then TrackStock will trigger an automated reorder up to the maximum minus what is already on order for that item.
Track Usage and Get Visibility of On-Hand Quantity
Track usage of Amazon items with TrackStock's easy scanning app or weight sensors. Users scan items to pull them from inventory or to receive them against a purchase order. 
Alternatively, TrackStock SensorBins™ are a no-touch sensor-based inventory replenishment system. Weight sensors under bins of supplies work together with TrackStock IoT cloud software for fully-automated replenishment. SensorBins provide physical inventory counts on demand in minutes with no human intervention. They convert bin weights to quantities on an ongoing basis to track usage and to trigger automatic replenishment orders when needed using min/max settings.
TrackStock's Min/Max AI Dashboard dynamically adjusts min/max levels based on usage in order to optimize stockroom inventory levels. Users who want to optimize their Amazon inventory can now do so. The AI Dashboard analyzes the company's past usage and other parameters for a set period of time and calculates the inventory and carrying cost savings that could be realized by moving to optimal min/max levels.  
Search From Within TrackStock for Additional Amazon Items To Manage
Since eTurns and Amazon are integrated, users can now search for new Amazon items to manage and reorder directly within the TrackStock app. The Amazon look and feel and product information are carried over into the software. Users can also access their past Amazon order history in TrackStock and select items they wish to download and manage within TrackStock for auto-replenishment. 
Bring Amazon Order History to TrackStock To Optimize Reordering
Users can now bring their Amazon Business order history into TrackStock for streamlined inventory management of those items. The TrackStock app can then be used to scan-to-order, scan-to-count what's left, or scan-to-pull. All replenishment orders placed through TrackStock will follow the same order management tools (category or pricing limits, punchout, etc.) that users have set up with Amazon Business for all their orders. 
The data created by tracking consumption and auto-replenishing in TrackStock can then be used by TrackStock's Min/Max AI Dashboard to calculate what the min/max levels should be in order to optimize inventory levels and reduce costs.
Move From Costly VMI With Other Suppliers to CMI With Amazon Business 
When suppliers offer vendor-managed inventory services to keep MRO or consumable inventory stocked in large enterprise accounts, the offer usually comes with hefty upcharges up to 3X. Recently, companies have approached eTurns about moving away from VMI suppliers and having their employees use the TrackStock app to manage inventory replenishment of products themselves in a customer-managed inventory (CMI) model. 
The new integration between Amazon Business and TrackStock means that now, companies can easily convert to CMI replenishment of Amazon Business products in their stockrooms using the TrackStock app. 
By leveraging the new integration between eTurns TrackStock and Amazon Business, companies can save time and reduce costs through optimized inventory, streamlined management processes and more. 
Tagged in:
Replenish Plan
Manage Lite Plan
Manage Plan
Optimize Plan
Amazon
VMI & CMI
Optimized Inventory
Auto-Replenishment
AI Inventory Management
Cycle Counts
MRO
Medical
Construction
Contractors