How to Move from VMI to CMI for MRO Inventory Management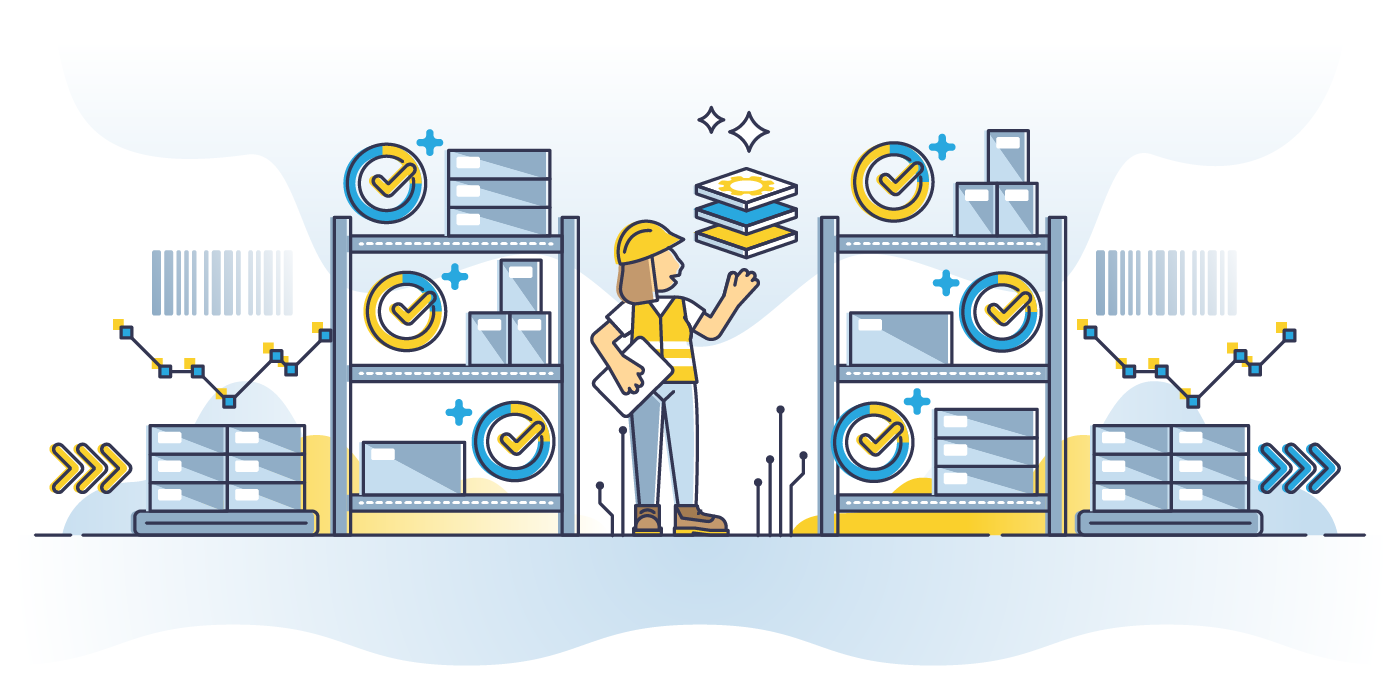 While not every organization carries inventory in the form of products for sale, every organization does use Maintenance, Repair, and Operations inventory. Maintenance, Repair, and Operations (MRO) inventory plays a critical role in the daily operations of any business, regardless of its key functions. From the tools that keep essential equipment working to the light bulbs and cleaning supplies that keep a storefront presentable, MRO inventory keeps any business running smoothly. 
In many organizations, MRO inventory constitutes a large portion of procurement spending. Keeping too much MRO inventory on hand can be costly, but running out of MRO inventory items can lead to downtime. 
Table of Contents
Companies Are Approaching eTurns For MRO Inventory Optimization
A large airline and e-commerce company have approached eTurns recently to help them move from a Vendor-manged Inventory model to a Customer-managed Inventory model for managing their MRO inventory more efficiently. Both companies started their projects with supplier and product rationalization. Then they looked for an easy-to-use inventory auto-replenishment app that would help their employees be able to do guided cycle counts and usage tracking with min/maxes that would trigger auto-replenishment to any supplier and optimize their inventory. Both wanted to use Coupa for a punchout procurement process. 
These companies know that managing MRO inventory efficiently can reduce overall operational costs and downtime while improving productivity. Continue reading to learn about best practices for effective MRO inventory management and the benefits of a CMI approach in this space.
What Is MRO Inventory?
All supplies and parts needed to maintain, repair, and operate equipment and facilities within an organization are classified as MRO inventory. This can include replacement parts for machinery, safety equipment, maintenance tools, cleaning supplies, medical supplies, breakroom supplies, office materials and more. Essentially, MRO inventory encompasses any item required for day-to-day operations and the upkeep of assets.
Managing MRO Inventory
While inventory management lies at the core of operations for many businesses such as retail stores and construction companies, others may not have a well-established system for this task. What's more, managing MRO inventory can be quite different from managing product inventory. MRO inventory management can become a complex and costly task because it often involves a vast array of items with varying demand patterns, lead times, and criticality levels. Efficient MRO inventory management is essential for controlling costs and ensuring that necessary supplies are always on hand so that the organization can function as planned.
Efficient MRO inventory management requires striking a balance between maintaining an adequate level of stock to prevent downtime or running out of essential materials while also minimizing carrying costs. Organizations seek to ensure that they won't run out of light bulbs, for example, but they also don't want to waste a surplus of square footage on storing a thousand of them. In order to efficiently manage MRO inventory, organizations must find a way to procure, organize, track and appropriately replenish supply levels for optimal performance and cost savings. 
VMI vs. CMI in MRO Inventory Management
Because MRO inventory management poses complex obstacles and many organizations do not have the administrative bandwidth to manage the process manually, it's common to use a Vendor Managed Inventory (VMI) approach to MRO inventory management. 
In VMI, suppliers play an active role in managing their customer's inventory. The supplier monitors stock levels once or twice a month, makes replenishment decisions, and has direct access to the organization's inventory data. This approach alleviates some of the workload for the organization, allows for frequent MRO inventory replenishment, and leverages supplier expertise about specific products. 
On the other hand, VMI also has its drawbacks. This approach means that clients have to trust suppliers to control their inventory, which can unfortunately lead to overstocking, stockouts,  or inefficiencies. Instead of being able to control the process, organizations are left to rely on their suppliers' performance and precision of ordering. In some cases, this approach can come with a hefty upcharge for the supplier's services as well. 
An alternative approach to VMI inventory management is Customer Managed Inventory (CMI). In this strategy, the responsibility and control remains with the organization. The company must keep track of their own data and analytics in order to make informed decisions about minimum and maximum stock levels, reorder points, and inventory optimization.
Benefits of CMI for MRO Inventory Management
With the proper tools and processes, embracing a CMI approach to MRO inventory management can yield impactful benefits. These benefits include:
Cost savings: Suppliers generally charge management fees under a VMI model. What's more, organizations often struggle to ensure that the vendor is truly optimizing inventory levels and promoting the most cost-effective inventory management process possible. CMI allows for optimization and cost reduction. 
Increased control: CMI gives the organization full control over their inventory, enabling them to fine-tune their inventory levels to meet their specific operational needs. The customer can do stock checks every day if desired instead of waiting for the supplier to visit one or two times a month. 
Data-driven processes: When executed well, CMI relies on data analysis to optimize inventory, reducing waste and improving accuracy.
Optimized uptime: With firmer control over inventory and operations, businesses can reduce downtime by ensuring essential parts and supplies are always available.
When done well, CMI can benefit organizations from an operational perspective and a budget standpoint. This shift to taking control of your own MRO inventory optimization may even improve supplier relationships and quality by taking the task of inventory management off of their plate. 
Tools for Moving to CMI
Without the right tools, companies run the risk of making costly mistakes or being bogged down by time-consuming inventory counts and additional tasks when they transition from VMI to CMI. However, with the correct tools and careful planning, the move to CMI can be smooth and precise. 
eTurns TrackStock is inventory management software that can help reduce MRO procurement costs by up to 90%. With the following features, TrackStock makes the transition to CMI for MRO inventory management as simple as possible.
Scan to order, cycle count or use inventory: Use our easy QR code scanning app to order items or to get guidance on cycle counts so you don't miss any items. Scan to pull items from inventory. Get auto-replenishment if any of your scans trigger quantity-on-hand to go below the minimum level. 
Alerts for preventive maintenance: Manage equipment with ease thanks to automated email alerts from TrackStock. You'll receive a reminder when it's time for maintenance and repairs for your crucial equipment in order to preserve uptime. TrackStock keeps the MRO supplies you need in stock for upcoming repairs. 
Tool tracking by serial number: Prevent checkout of tools when they're in need of calibration with specific tool tracking through the eTurns software.
Min Max AI Dashboard for Optimized Inventory: TrackStock calculates recommended min/max settings based on past usage and guides you to reset those min/maxes immediately or gradually to reach optimized inventory levels. This system of MRO inventory optimization allows organizations to minimize cash in standing inventory while also reducing stockouts and downtime. 
ERP integration: Connect seamlessly with other ERP software to save time and resources. 
Moving from VMI to CMI can lead to exciting cost and time savings through the MRO inventory optimization process. To successfully transition to CMI, invest in tools that will save your team time and money at every turn. eTurns TrackStock offers the data analysis, ongoing tracking, and automated processes you need for seamless CMI in MRO inventory management. 
Tagged in:
Replenish Plan
Manage Lite Plan
Manage Plan
Optimize Plan
Auto-Replenishment
AI Inventory Management
VMI & CMI
MRO
Contractors
Manufacturing
Distribution